NationaliTeas is a fast-growing online tea shop that managed to grow from an unremarkable local business to a highly popular global organization with international partnerships and ties. At the same time, for the expansion and successful development of the company in the future, specific guidelines concerning communication with both international and domestic audiences are required. That is why NationaliTeas that has not operated in the international market previously needs the following global communication plan for a culturally sensitive and professional approach to the public.
Analysis
Target Audiences
The identification of target audiences is highly important for the development of any company as it helps to define appropriate strategies of promotion based on people's peculiar features. Sacramento, California, and London, England, were chosen as target locations. Both cities are among the world's most ethnically and culturally diverse, however, the target audiences are White English-speaking men and women aged 18-30 with high education and average income. The choice of the audience was determined by the significance of tea in Asian and British cultures, locations' characteristics, the general utility of the English language, and the company's prices.
Risk Assessments
The company's risks are primarily connected with the location's diversity. N the one hand, it may be regarded as a substantial advantage as the presence of completely different people enlarge the company's opportunity to increase sales. On the other hand, the representatives of multiple cultures do not choose teas as a preferable drink. The climate may provide certain risks as well – for instance, hot summer in London will probably reduce the consumption of hot tea. Concerning traditional economic and physical risks, the company's expansion will inevitably require substantial investments in machinery, workforce, materials, and rent. Expenditures may not be completely covered by profits in the available time.
Cultural and Social Factors
Despite the diversity of people in target locations, both cities are united by the prevalence of the White population with similar interests and traditions and the common use of the English language. Tea is familiar to the representatives of western culture, especially to British people. In addition, the use of the English language by mass media will facilitate communication with the target population.
Political and Economic Factors
Both London and Sacramento are cities with massive commerce where mass media may bring benefits to businesses as it is responsible for the advertisement, the creation of the product's credibility, and sales increase. In turn, these abilities of mass media are guaranteed by the freedom of speech and the press provided by lawmakers. For its development in both local and international markets, NationaliTeas needs to be accepted and approved by mass media to build customers' awareness and loyalty.
Understanding of International Relations and Events
Mass media communications may have both positive and negative impacts on people's perception of traditions and events related to other cultures. nationalities should create a positive image of drinking tea and cultures where tea plays a significant role to attract not only the target audience but the representatives of other cultures as well.
Best Practices
Defining Standards and Principles
For the successful entering the international market, NationaliTeas should present a high-quality product and demonstrate the understanding of different people's cultural peculiarities and needs as the company is ready to serve all people regardless of their race, ethnicity, age, gender, education, and socioeconomic status. Its internal group will be responsible for the examination of the locations' cultural background and target audiences and the advantages and disadvantages of the target market to create an appropriate advertising campaign and provide people with an understanding of the value of using NationaliTea's products.
Proactive Benefits
The understanding of cultural needs will have a highly positive impact on the company's acceptance by the public. In other words, people will buy products if they see that the company respects not only their culture but create a positive image of other nationalities and their traditions.
Potential Miscommunications
To avoid miscommunication, it is possible to introduce several other languages of communication that are used in target locations as well. In addition, the variety of prices will allow people with different incomes to buy high-quality, through affordable products.
International Law and Ethical Considerations
The company's performance in the international market should correspond to international law and the main principles of ethics. That is why any advertising that may contain culturally-offensive content will be eliminated. In addition, any discrimination based on gender, race, or ethnicity within the company will be prohibited as well.
Messaging
Media Channels and Communication Methods
The traditional media channels will include TV advertising, radio, and newspapers. However, the company's attention will be focused on new media channels, such as social networks and media platforms. Instagram, Facebook, and Twitter are highly beneficial as they presuppose follow-up and help to reach more people in a short period and, send direct and clear messages. In addition, the company may attract people through Youtube as well by posting videos about the benefits of tea, its significance in different cultures, and cooking methods.
Media Message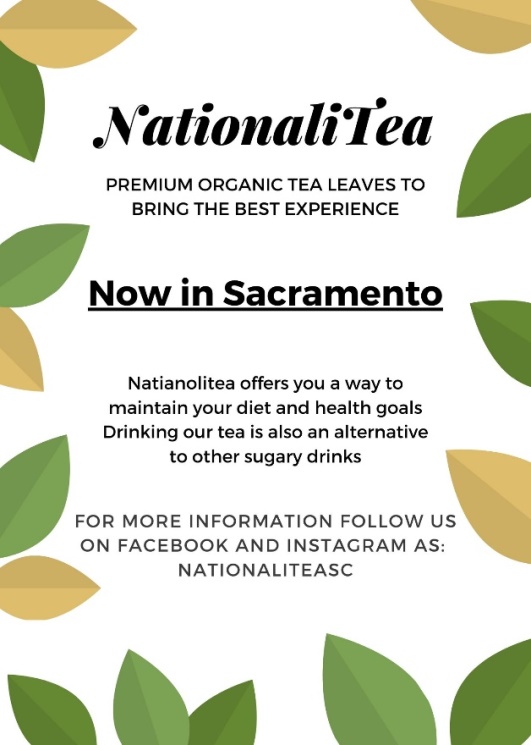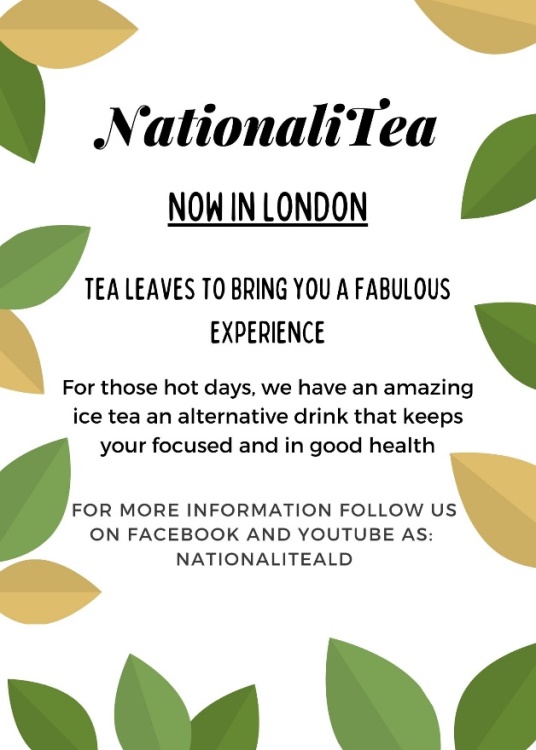 Rationale
Media messages differ based on the locations' analysis. People in Sacramento in the age group of 18-30 pay particular attention to their health and choose drinks that may complement their diet (Vieux et al., 2019). In turn, in London, people will be highly attracted by cold drinks during the summer's hot weather.
Reference
Vieux, F., Maillot, M., Rehm, C. D., & Drewnowski, A. (2019). Tea consumption patterns in relation to diet quality among children and adults in the United States: Analyses of NHANES 2011-2016 data. Nutrients, 11(11), 2635. Web.